The Fashion of Rich History with a Touch of Mystery:
Bohemian style has, for over 200 years, been described as "an exotic alternative" to the accepted fashions of a given period, one that is generally associated with artists, writers and intellectuals based on a culture that incorporates various ethnic clothing styles as well as historical costume. When one speaks of "bohemian style," it is often referring to loose, colorful clothing with such associated names as "boho chic," "hippie style" and "aesthetic dress;" indeed, with their long, flowing hair and rich-yet-threadbare fabrics, bohemians stand out in a crowd representing a colorful counterculture based on poverty, creativity and an indifference to social structures and traditions.
In America, a plethora of boutiques have sprouted up over the years offering super-cute, hippie-esque bohemian-style clothing, and, in typical L.A. style, Southern California has become a hotbed for such uber-trendy shops offering quirky-yet-flirty wares. If you have been having some trouble hunting down bohemian clothing in Woodland Hills, the following suggestions regarding the best stores around town will guide you in the right direction.
Tired of shopping at the mall and looking like everyone else? Bouboulina smoothly fills the niche between high-end fashion abodes and mall-oriented "chain" stores, offering not only unique clothing pieces but what Bouboulina representatives call "the star treatment," what with their penchant for referring to themselves as customers' personal stylists. Beyond the shop's own exclusive tie dyes and hand knits, Bouboulina carries lines from Tibet, Argentina and Pakistan, with merchandise ranging from "super sale" items sourced from Nordstrom and Urban Outfitters to hard-to-find boutique brands. Family owned and operated since 1980, Bouboulina is celebrating its 30th anniversary as a small boutique where "real women shop," boasting affordable prices and a fun atmosphere for all customers. Whether it's dresses, pants, sweaters, tunics, yoga wear, leggings, earrings, scarves, shoes, boots or purses, the complete bohemian experience awaits at Bouboulina.
Passion's is a very unique and eye-catching boutique offering one-of-a-kind finds imported from India, Egypt and other Middle Eastern locales. With styles for everyone – and selling beautiful jewelry as well – Passion's is a delight from the moment you step inside this charming little spot. Looking for a unique and special gift for a dear friend or loved one? This is the place to go. Seeking a personalized experience that's unlike the big box chains? Owner Azar will greet you and assist with picking out the perfect gift…or finding the perfect piece just for you, for a little justified self-indulgence. From gorgeous, wholly feminine dresses to dazzling necklaces, Passion's has a passion for fulfilling every fashionista's bohemian fantasies.
Indigo Boutique is an adorable little shop located on Remmet Avenue in Canoga Park, offering a variety of styles, sizes and prices across a multitude of merchandise selections. Looking for the perfect trendy top that you can pair that long necklace with? No problem. Need something with a bohemian flair for a sexy evening out? Indigo has you covered. Want a super-cute dress to mate with that figure-hugging top? There is always something new – and overtly affordable – at Indigo Boutique.
Hidden Treasures  represents a unique vintage and antique business specializing in clothing dating from the Victorian era to the 1980s. In addition to vintage clothing, the shop carries used clothes, which includes couture items, shoes and purses, and offers a $1.75 Treasure Trunk out front that contains incredible deals on items every day. Inside, Hidden Treasures beckons savvy shoppers like the comforts of meeting up with an old friend, going beyond the typical design aesthetic of most vintage stores with classic film props, pirate memorabilia, waterfalls and "wacky" antiques scattered throughout. If you can't get your "bohemian groove on" in here, it's going to be difficult to do so anywhere else.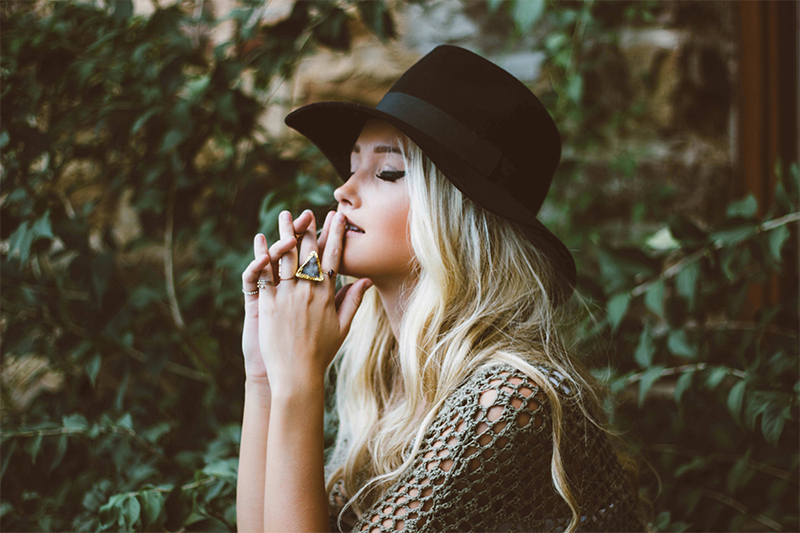 Wood 'N' Hanger was established in May of 2014 by a mother-daughter team who shared a passion for offering demanding Los Angeles women, of a wide age range, amazing clothing and vintage and handmade pieces. A relaxed, friendly atmosphere sets the stage for a bohemian clothing in Woodland Hills shopping foray not to be missed, whether it's a collection of cute clothes, fetching purses or sparkling jewelry. From the moment you step foot in Wood 'N' Hanger, you'll understand why so many L.A. ladies call it their "happy place," with bohemian clothing that makes women feel ultra-feminine – without having to pay a fortune. From the handmade gift items to the antiques and clothing, this shop is a little treasure to be cherished.
Los Angeles is a mecca for vintage-esque bohemian clothing. Whether you're searching for a perfect Coachella outfit or even a unique bridesmaid dress for a bohemian-themed wedding, look no further than these top boutiques in Woodland Hills.