Shopping in Woodland Hills Just Got a Whole Lot More "Local" with Etsy
As a peer-to-peer e-commerce website focused on handmade and vintage items and supplies, Etsy has grown since its inception to encompass unique factory-manufactured items as well as local-oriented shops – very much in the fashion of independent eBay "outlets" and the like. With so much advice buzzing around the Etsy community, it has become something of a challenge to narrow down exactly what makes a great shop…but, essentially, these quaint little spots offer great prices, excellent customer service, team-oriented values and an old-fashioned patience from the perspective of the store owner sorely missing from today's big-box retailers.
Los Angeles, with all its glitz and glamour from Rodeo Drive and Hollywood Boulevard to the dazzling homes on the shores of Malibu, is absolutely no stranger to high-end shopping boutiques. And while tourists flock in droves to the ritzy locations showcased within the pages of vacation guides, the town's more "local" shopping scene beckons value-conscious fashionistas with the promise of a personalized experience that cannot be beat. Into this foray have come Etsy businesses, sprinkled throughout the San Fernando Valley's local retail hub like sparkling jewels begging to be discovered.
We have compiled some of the most intriguing blink-and-you'll-miss-em businesses in the Woodland Hills area, proving that there's more than one way to "shop local."
Empire Squid Organics brings
intelligently-designed products made from only organic and all-natural ingredients without any hidden "chemical crud." Operating since 2013, Empire Squid's primary focus remains on its ingredients and customers – a dedication evidenced by the shop's sourcing of ingredients and packaging that are both good for our bodies and good for the Earth. Further, all of the shop's skin products are comprised entirely of naturally-sourced elements that are, of course, primarily organic, with no animal or by-products.
---
Illuminated Perfume, lorded over by owner,
maker, designer, curator and alchemist Roxana Villa, is a unique botanicalperfumes retailer, offering the benefits of Roxana's roots in aromatherapy and the visual arts. Professional training in aromatherapy cultivated her nose, as well as a firm knowledge in healing aromatics, and as an award-winning artist Roxana brings her gifts of storytelling, conceptual thinking and a strong visual aesthetic to her work in perfume. Illuminated Perfume has been operating since 2008.
---
Craftsman Soap Company is a
Woodland Hills-based soap and men's grooming supplies shop devoted to creating natural, handmade goods that – put succinctly – work well and smell great. From every single bar of soap to its one-of-a-kind hardwood shaving brushes and ceramic bowls, Craftsman Soap's philosophy remains the same: Infuse quality and character into everyday grooming items. In so doing, this charming business aspires to enhance its customers' daily rituals and lend some handcrafted comfort to their day.
---
Bohemian Heart Jewelry offers handcrafted
one-of-a-kind jewelry pieces, each being utterly unique and unlike anything you have seen before. The owner, who started making jewelry for fun at home but who has now dedicated all of her time to this craft, takes custom orders from clients, and will attempt to recreate any piece she has made in the past if that's what a customer desires. However, she guarantees customers will never get two pieces that are exactly alike – as she prides herself on crafting handmade, completely individualized masterpieces that can't be found in department stores.
---
Nelson Makes Art! brings shoppers the "art of the sea"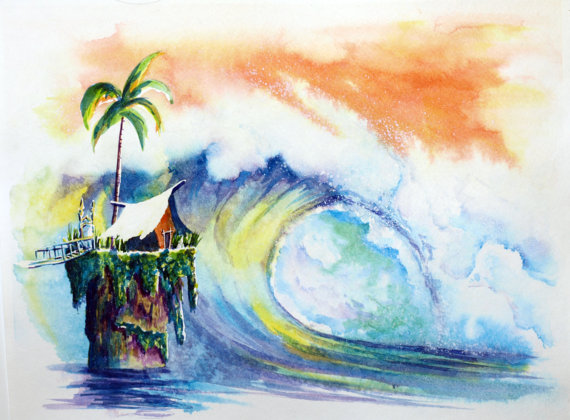 – flip-flop style.
A homegrown art studio based out of Los Angeles, Nelson Makes Art! offers a personalized experience from an actual artist – not a company or hierarchy – and boasts quality art and products that are 100-percent American-made. The business traces its roots to 2001, where it began as a home basement design studio in New Jersey, but over 10 years and several moves across the continental United States, the owner fought back against the tides of the recession and began creating paintings, hand-painted glassware and much more – and continues to do so to this day.
---
Artedelat is another Woodland Hills-based
business with a focus on "an eye for aesthetic beauty." From unique chairs to select designer items, owner Gus Delpozo has taken Artedelat to a whole other level when it comes to experience, with some customer favorite items encompassing the Rodo Dining Chair, Rodo Bar Stool, Acapulco Chair, Mia Table and many other powder-coated steel and vinyl pieces.
---
Selina Vaughn crafts vintage seed sack handbags
that hearken back to the '40s and '50s, offering ladies who are off the beaten path unique bags boasting mixed, unexpected colors and textures. A favorite amongst Woodland Hills fashionistas in the "trendy know," Selina's shop also sells intriguing items like vintage '50s seed sacks, Japanese wedding kimonos, old floral corsages, wood toys and watches – all of which have been used by the "handbag artist" to make fun bags and jewelry. Her goal, in continuing to successfully run her business, is to keep creating pieces that are practical and fun, reusing vintage items and repurposing them to be applied in a different style.
---
It's been said that the heart and soul of Etsy is the marketplace's global community…the creative entrepreneurs who use the platform to sell what they make or curate. Never has this been more vividly evident than in the aforementioned shops of Woodland Hills.